YOUR HEALTH MATTERS… Living Well for a Healthier Memory & Longer Life is a FREE Community Engagement Event taking place during National Dementia Awareness Week
on Thursday 19th May and will run from 10am – 2pm.
The Vale of Evesham Primary Care Network (PCN) spearheaded by Abbey Medical Practice have been successful in bringing together over 40 Organisations who between them will showcase the wealth of support and services available to those who may face the challenges of living with long-term health conditions, including memory loss and dementia.
GP Partner at the Practice, Dr Julia Lloyd, with a 27 year history of serving Evesham has both a personal and professional interest in care of the elderly, particularly those suffering with dementia, and along with other colleagues will be putting her best foot forward on 16th July striding out on a 26 mile walk to raise funds for the Alzheimer's Society.
Experts will be on hand on 19th May to give help and information on Health, Wellbeing, Diet and Nutrition as well as Leisure Pursuits and Social Care, all very necessary to enable you to live the best life you can.
A smaller, similar Event was held in 2019 which was very successful and it was planned to organise a larger more informative Event but this was unable to go ahead caused by the restrictions put in place due to the Pandemic. Carolyn Pym, Memory Loss Advisor at Abbey Medical Practice said:
"We have all been through unprecedented times over the last two years, and as we strive to return to normality, I feel it is more important than ever to help our patients understand the help and support available and how they may access it.'
In addition to the wealth of information available from those participating in this 'Health Showcase' a full programme is planned and will include Guest Speakers, a variety of Demonstrations including Equipment, Seated Exercises, Food Sampling and Music to ensure an enjoyable experience for all, and with FREE ONSITE PARKING it is definitely an Event not to be missed.
Visit www.abbeymedical.com  for more information call Co-Organiser Fran Webb 07801 983112.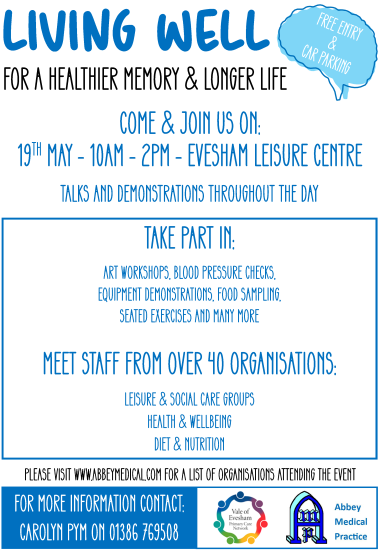 Participating Organisations:
Active Herefordshire & Worcestershire (Falls Prevention) Age UK Herefordshire – Worcestershire – Malvern Almonry Museum & Tourist Information Centre Alzheimer's Research
Alzheimer's Society Action Deafness
Bluebird Care (Worcester & Wychavon)
CHS Healthcare
Caring Hands in the Vale
The Cinnamon Trust
Community Housing Technology Enabled Care Services
DIAL South Worcestershire
EBBI –Primary Care Network
Evesham Library
Evesham Dementia Action Alliance
Evesham & District Mental Health Support Services – Evesham Meeting Centre Evesham & District Pensioner's Association (Older People's Forum)
Evesham Talking Newspaper Evesham Volunteer Centre Evesham & District U3A
The Friendship Network Garage Art Group
Healthwatch Worcestershire
Helping Hands
Herefordshire & Worcestershire Admiral Nursing Team Hereford & Worcester Fire & Rescue Service
Home Instead Worcester
Indy Mobility
Majesticare (Cavendish Park Care Home) Midwinter Physiotherapy
Onside Advocacy
PILS Millbrook Healthcare Parkinson Wright Solicitors Penderels Trust
Pershore Well Being Hub
Richmond Villages Wood Norton Rooftop Housing Group
The Tea Service
West Mercia Police
Wick Care Farm
Wiltshire Farm Foods
"With you in Mind" Memory Café Worcester Community Dental Services Worcestershire Association of Carers Worcestershire Sight Concern Wychavon Adult Social Services Wychavon District Council
Wychavon Leisure